"Boren's move to higher education made a big difference for Oklahoma and OU"
By RANDY KREHBIEL World Staff Writer | Posted: Sunday, November 16, 2014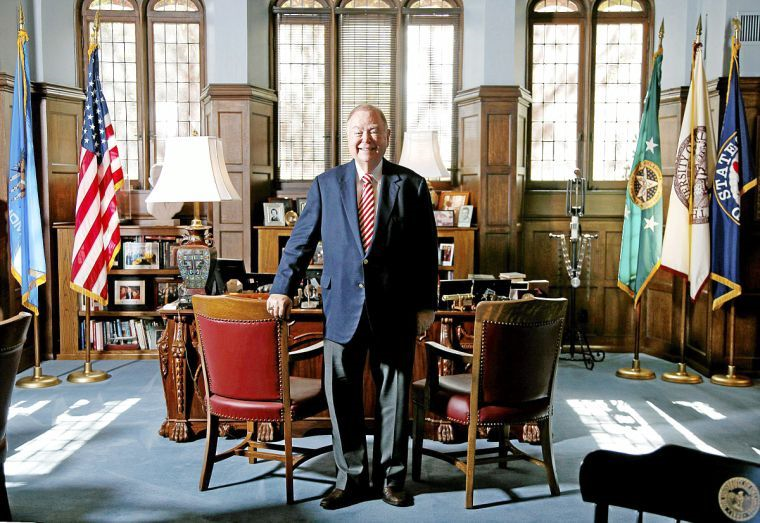 David Boren, the president of the University of Oklahoma, stands in his office inside Evans Hall on the Norman campus Monday. Boren was named president of the school 20 years ago. JOHN CLANTON/Tulsa World
NORMAN — At the time, it seemed so improbable.
David Boren, chairman of the Senate Intelligence Committee and one of the most influential people in Washington, former governor and by some calculations a potential presidential candidate, giving it all up to become president of the University of Oklahoma?
There were those who thought Boren could not possibly be serious and those who thought he might take the job but would not stay in it long.
A few thought Boren was not only serious, but also that he would sign on for the long haul.
They turned out to be right.
On Monday, David Boren will have been the University of Oklahoma's president for 20 years.
"I've never had a day's regret," he says.
OU's legions of alumni and supporters do not seem to have, either. The school's national and international reputation has soared during Boren's tenure, more than $2 billion in capital projects have been completed or are underway on the Norman, Oklahoma City and Tulsa campuses, and admission requirements and enrollment are at or near all-time highs.
"The University of Oklahoma was in such a state of disrepair, both physically and academically, if we hadn't hired him we could have become a second-class university," said Tulsa businessman Tom Clark, an OU regent and longtime associate of Boren's.
Certainly there have been rough spots. Boren was brought in to fundamentally alter the university's course, and in the early years that meant some heads rolled. He pushed — and sometimes pushed hard — and used his extensive contacts to get what he wanted for OU.
And there were some bobbles. For one, he initially misjudged expectations for OU's Tulsa operations. Some would argue he overplayed OU's hand in conference realignment a decade later.
Most public were the 1990s struggles in football: the brief, bitter regime of Howard Schnellenberger and the disappointment of the John Blake years. Oklahoma Speaker of the House Jeff Hickman, then an OU athletic department employee, said he knew Schnellenberger was in trouble when the former University of Miami coach referred to Boren as "Dave" at his first press conference.
"I've never heard anyone call Boren 'Dave,' " Hickman said.
Hickman was also the undergraduate student representative on the search committee that recommended Boren, and he was Boren's press secretary from 2000 to 2003. Hickman said the search committee interviewed several candidates but even some of them believed Boren was clearly the best option.
One, a University of Colorado administrator who Hickman thinks would have been the No. 2 choice, said, "If you have a chance to hire David Boren, you should do it."
By mid-1993, OU regents and other supporters had grown disenchanted with President Richard VanHorn, and in October he announced his retirement effective at the end of his contract on July 1, 1994.
More broadly, there was a feeling the university had been drifting, that it needed direction and leadership. At the same time, Boren was becoming disenchanted with Washington. He was a centrist — a deal-maker — and that sort of politics was going out of fashion.
"I was becoming disillusioned with Congress," he said. "It was beginning to polarize. … I was beginning to feel that polarization. I didn't like working in that environment."
There followed a six-month courtship during which the university and Boren attempted to maintain State Department-like secrecy, sometimes to almost comic effect.
One night, to hide Boren from the press staking out a closed session of the OU regents, he and board administrator Chris Purcell were stashed behind shrubs outside the OU Student Union and spirited upstairs in a service elevator.
By the time Boren's appointment was announced in April 1994, it was the worst-kept secret in America. He took office seven months later, on Nov. 17, 1994, amid much pomp and circumstance.
Boren's decision marked a decided shift to the right in Oklahoma politics. He was replaced in the U.S. Senate by Jim Inhofe, who defeated moderate Democrat Dave McCurdy. Republicans swept the state's congressional seats; most notably, Tom Coburn replaced Mike Synar in the 2nd District, and J.C. Watts took McCurdy's 4th District seat. Mickey Edwards, considered conservative by the standards of the day, was no longer conservative enough for Oklahoma City and the 5th District and was beaten by hard-liner Ernest Istook.
Boren, always an astute observer of political trends, wasn't necessarily looking for a way out, but he was looking for something different.
He called Terry Sanford, who had been governor and U.S. senator from North Carolina and president of Duke University.
"Take the job before they change their minds," Sanford told him.
"My guess is that from Day One he was dying to do it," said Tulsa attorney C.S. Lewis III, who was one of the OU regents who hired Boren.
"I think he's really loved it."
Boren leaves that impression.
In an office crowded with memorabilia from his political, academic and private lives, he talks about the unexpected challenges of the job and the ideas he has for the future.
Perhaps his biggest disappointment, he says, is that he doesn't have more time for teaching and being with students.
"Our students are performing very well," Boren said, "but you can't just measure students by test scores or grade points. Their character is exceptional. Their values are admirable. They really have great personal integrity.
"They're not as materialistic as students 20 or 25 years ago. They really want to make a contribution to society.
"They've caused me to be an optimist," he said.
Boren also talks about his frustration at the diminishing state support for higher education.
"We can't build a state on ignorance," he said.
Boren created perhaps more controversy than he bargained for last spring by personally paying for advertisements in newspapers across the state that criticized Gov. Mary Fallin's budget proposal to shave nearly $50 million from higher education appropriations.
Relations with Fallin and her staff were "frosty" for awhile, but the $50 million remained in the higher education budget.
Boren said he felt strongly that someone had to speak up, and that "everyone else was afraid."
"With the new oil and gas boom," he said, "it's really investment time. … Being on the wrong end of the scale on what we put into education, what we put into infrastructure, what we put into health care, that's not going to attract business into our state.
"Tinkering around with the tax code a little bit, it can be valuable in some ways," Boren said.
"I cut taxes when I was governor. But more important, we need to rank at the top in education, in quality of infrastructure, in quality of life. People want to live where they're going to have a high quality of life and where their children and grandchildren are going to have great opportunities."
Another of Boren's frustrations is that his wife, Molly Shi Boren, does not get more credit for the successes of the last 20 years.
Among other things, Molly Boren was largely responsible for the transformation of the campus' physical appearance and for improvements to arts programs and facilities.
Hickman says they should be regarded as a team.
"There aren't many leaders who have both the grand vision and know the details of how to get there," he said. "David and Molly Boren are unique in that way. They are two of the most intelligent people I've ever met."
Some think Boren, at 73, has privately told OU regents when he plans to retire. If so, neither he nor they are talking. There is a widely held belief he would like to match the record of George Lynn Cross, who led the university through a transformative quarter-century from 1943 to 1968.
"I'll know it's time to stop if I ever stop having new ideas," Boren said.
"I know it won't be forever. But I have to say this season of my life, this 20 years, has been the most rewarding of all for me."
SPOUSE
Molly Shi Boren: She doesn't get enough credit for her work, her husband says.
1941: Born in Washington, D.C., to U.S. Rep. Lyle Boren and Christine McKown Boren.
1963: Graduated Yale University; attends Oxford as Rhodes Scholar.
1966: Elected to Oklahoma House of Representatives from Seminole.
1968: Graduated University of Oklahoma College of Law.
1974: Elected governor of Oklahoma.
1978: Elected to U.S. Senate.
1994: Named president of the University of Oklahoma.
• Annually enrolls more National Merit Scholars than any other public university
• Norman campus named one of America's 25 most beautiful
• More than 30,000 trees planted on OU's three campuses
• More than $2 billion in capital improvements completed or underway
• Expanded international programs
• Top tier Carnegie Research Institution
• More than $2 billion in private gifts and pledges
• Expansion of Fred Jones Jr. Museum of Art
• Wayman Tisdale Specialty Health Clinic in north Tulsa
• OU-Tulsa Schusterman Campus
Five things about David Boren
· Sat on President Franklin Roosevelt's lap as an infant.
· Vacationed this year in Mongolia and Bhutan.
· His father and son both served in Congress, making the Borens the only three-generation congressional family west of the Mississippi.
· Office desk chair is the same chair he used in the U.S. Senate.
· Was asked to be Reform Party candidate Ross Perot's vice presidential running mate in 1996